Search KARSTBASE:
KarstBase a bibliography database in karst and cave science.
Featured articles from Cave & Karst Science Journals
Featured articles from other Geoscience Journals
Microbial mediation of complex subterranean mineral structures
, Tirato, Nicola; Torriano, Stefano F.F;, Monteux, Sylvain; Sauro, Francesco; De Waele, Jo; Lavagna, Maria Luisa; D'Angeli, Ilenia Maria; Chailloux, Daniel; Renda, Michel; Eglinton, Timothy I.; Bontognali, Tomaso Renzo Rezio
Evidence of a plate-wide tectonic pressure pulse provided by extensometric monitoring in the Balkan Mountains (Bulgaria)
, Briestensky, Milos; Rowberry, Matt; Stemberk, Josef; Stefanov, Petar; Vozar, Jozef; Sebela, Stanka; Petro, Lubomir; Bella, Pavel; Gaal, Ludovit; Ormukov, Cholponbek;
Britain's 17 species of bat are safe from white-nose syndrome
Lisa Worledge the partnership officer for the UK Bat Conservation Trust confirms that Britain's 17 species of bat are safe from white-nose syndrome.
In Britain volunteers are monitoring caves, old railway tunnels and abandoned buildings where bats hibernate during winter. So far no sign of white-nose syndrome has been discovered which is a very good news for bat and not only for them. In USA where white-nose disease is growing into truly pandemic scale the ecological disbalance associated with removing one of the major predators is going to cost billions for the country's economy.
The fungus Geomyces destructans is responcible for white-nose syndrome. It grows at low temperatures (4 – 15 °C (39–59°F)) and dies if temperature exceeds 20 °C. Bats become vulnerable to the fungus during their hibernation when conditions are right for the fungus to grow. When a bat is infected the fungus can be on the animal snout, wing membrane and ears. It can also penetrate into some other tissues like for example hair follicles or sebaceous glands.
On 17th of January 2012 U.S. Fish and Wildlife Service (www.fws.gov) reported 5.5 million deaths of bats in North America (lexternal link). At some sites the mortality rate reached 100 percent. After it has been first discovered in 2006 it took only a couple of years for the decease to spread into 16 states and four Canadian provinces. There is no sign so far that the situation with the WNS in America is going to improve any time soon.
Scientists and cavers in Europe keep their finger crossed since Geomyces destructans is also found in several European countries. It was detected in Germany, Switzerland, Hungary, Czech Republic, Slovakia and France.
Sources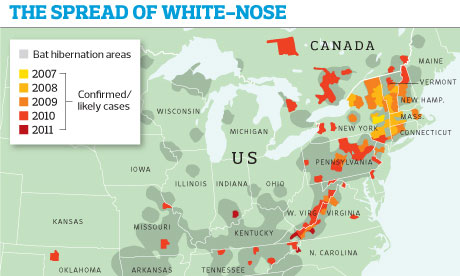 The spread of white-nose syndrome in the US. Photograph: Observer
A little brown bat with white nose syndrome.
Scanning electron micrograph of a bat hair colonized by Geomyces destructans. Scale bar = 10 µm
Related Videos:
Latest news: